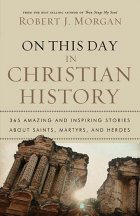 A 365 day devotional, On This Day in Christian History introduces the reader to some of the greatest saints, martyrs, conflicts, preachers, popes and heroes of the past 2000 years of Christian history.  Robert Morgan uses daily reading combined with scriptural reading to present us with rarely seen view of believers and the beginnings of the Christian church.
I think I really goofed by choosing a daily devotional for my first review.  It took me longer than it should have because some of the daily readings just had to be digested before you could move on.  The stories were provoking, inspiring, horrifying, informative and just all together a great short read.  There were days where I could skip through a whole week's worth of stories at one time and other days when all I could read was one.
It was also a bit confusing reading multiple entries at one sitting.  Several of the stories mentioned the same person in different references.  But it was not in chronological order and skipped around throughout the book.
I really enjoyed the book.  During the time I was reading the book, I was able to bring up points from the readings in my Sunday school class passing on the knowledge I had collected.  I would definitely recommend this book to others.
Disclosure of Material Connection: I received this book free from the publisher through the BookSneeze®.com book review bloggers program. I was not required to write a positive review. The opinions I have expressed are my own. I am disclosing this in accordance with the Federal Trade Commission's 16 CFR, Part 255: "Guides Concerning the Use of Endorsements and Testimonials in Advertising."